I want to clue you in to some good audio literature that I've just discovered. I'm always on the lookout for new and different writers to listen to on my iPod, and right now I'm in the middle of two excellent novels.
The Hidden Institute — Brand Gamblin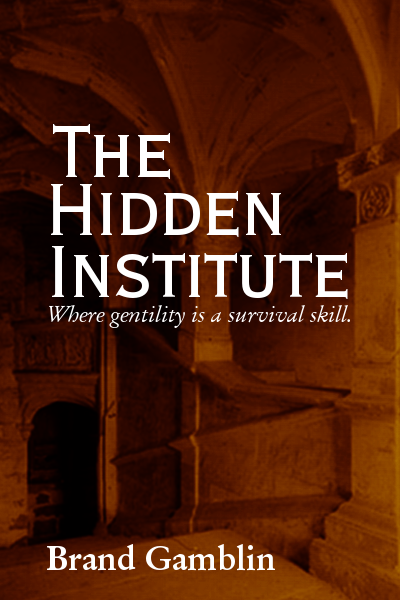 I've met Brand a couple of times at Balticon, and never having listened to his previous book Tumbler (something I must rectify soon), I decided to give his new work a try. It's the story of a lower-class boy named Cliffy who catches a wealthy nobleman in a situation that the nobleman would much rather keep out of the press. To buy his silence, the man offers Cliffy a free education at a special school; Cliffy, who lives pretty much in squalor with his destitute father, quickly accepts.
My first reaction to this premise was, "This sounds a bit like a certain series of books about a boy wizard." However, this school is no Hogwarts. The place is built entirely below ground. The headmaster is packing heat and uses it to discipline unruly students. Each boy (only boys attend) has a robot for a man-servant. Students who fail at their studies are dispatched…permanently (to quote The Eagles, "You can check out any time you like…")
The school prepares boys for careers as servants to the upper class, but it's more sinister than it first appears. Danger lurks both inside and outside the school's boundaries. Spoiled rich girls hunt for the students at parties, hoping to expose them as frauds. A mysterious legion of boys that carry a special mark trains for dark missions. When Cliffy (the protagonist) and his best friend mishandle an appearance at a ball, the disciplinarian at the school makes Harry Potter's Professor Snape look like a teddy bear.
This is a straight read, not a full-cast production, and that's fine. The author is more than capable of voice the different characters in distinct ways. The story starts with seemingly low-conflict scenes like Cliffy arriving at school, getting his hair cut, taking a bath, etc., but all of a sudden I found myself caught up in the story and asking that question every writer wants his readers to say: What happens next?
The recording is clean and a pleasure to listen to. I only have a few episodes left, and I'll be sorry for it to end.
Dreaming of Deliverance — R.E. Chambliss
R.E. Chambliss's debut novel Dreaming of Deliverance at first listen reminded me of Starla Huchton's excellent The Dreamer's Thread, but, like The Hidden Institute, it has a darker edge. Lindsay Paulson is a young, bright woman in her mid-twenties doing 10 years in a California correctional facility for a drug offense. Her only escape from prison life is sleep, but this escape takes an unexpected turn when she begins visiting a different world. Though she thinks she's dreaming, she wakes in the mornings with physical signs of her journeys.
The people of the land she visits view her as a sort of savior, someone to rescue them with her powers. Trouble is, Lindsay has no idea what they're talking about or how she's getting there. Worse, when she awakes back in the prison, she's not sure whether she's actually traveling to this land or if she's losing her mind.
I'm only about a fifth or so of the way through this one, but I'm already enjoying it immensely. Chambliss has managed to construct two vivid worlds — the dreary and hopeless setting of a women's prison and a pastoral world where leaders who have been mutilated as part of their preparation are assigned to communities. The residents of this world are welcoming but fearful, and they're looking to Lindsay for help. Whether and how she will do that should make for a fascinating ride.
As with The Hidden Institute, this is a straight read, but the author does the different character voices so well that I sometimes forget that it's only one person behind the mic (her voices of Lindsay's fellow inmates at the prison are especially fun.) I read on the author's Web site that she records inside her children's play tent (as a parent, I love the image of this), and it paid off in terms of a clean, very listenable recording.
A holiday weekend is coming up soon here in the U.S., and a lot of people will hop in their cars for long road trips. If you're looking for good podiobooks to pass the time on the highway, look no further than these two titles.